You arived here on
at
You are now listening to Cliff's biggest hit
"Bachelor Boy"
---
A SALUTATION TO

CLIFF RICHARD
on being conferred the tile
"SIR"
by
Her Majesty The Queen of the United Kingdom

The Legend begins......
Home for Cliff Richard is a mansion in Weybridge, Surrey, which he bought in 1987 for £1.4 million. While fame may have many advantages, being instantly recognisable means that even walking the dog can mean numerous autograph requests and being gawked at by virtually everyone who passes you by. Home is the one place Cliff can relax without having to worry about how he looks and simply be himself. The house is grand by any standards, but don't expect rare art treasures, silver collections, or precious antiques. Visitors say it's a comfortable home with a relaxed and warm feeling.
| | |
| --- | --- |
| | Cliff takes great pride in his garden which is largely maintained by his personal gardener Mick. He is constantly re-arranging and changing his garden so Mick is certainly kept on his toes! Recently he cleared a 'secret garden' in the midst of the extensive forest on his property and he is also a regular guest at the Hampton Court Flower Show. Cliff has both a tennis court and swimming pool on his property to help keep him active when not touring. Cliff shares his home with Bill Latham (part of Cliff's management team and a close friend), Bill's girlfriend Jill Clarke, and his West Highland Terrier Emma. Emma was a gift from the fans and it is said that she now sleeps in Cliff's bedroom! When at home Cliff spends his time playing on his Nintendo, |
relaxing, working in the garden or exercising on his tennis court or in the swimming pool. Cliff also enjoys cooking with his speciality being sauces. He once said that if his career folded tomorrow he'd be perfectly content to work as a sauce chef!
Parties are another one of Cliff's specialities and he'll often throw one for no good reason at all! Cliff's parties always have a theme such as his 'over the top' party where guests dressed in everything from Arab robes to space suites and 'uniforms and gowns' parties. For his fiftieth birthday party in 1990 he had a marquee erected on the lawn and guests had to come as they were in 1958. He enjoys cooking poolside barbecues, but will hire caterers for bigger parties. Cliff owns three cars - a 1980 Rolls Royce, a 1989 Range Rover and a 1990 Mercedes Benz 500 SL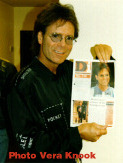 THE HIT LIST
1958 - Move It - No.2

1959 - Living Doll - No.1

1959 - Travellin' Light - No.1

1960 - Voice In The Wilderness - No.2

1960 - Fall In Love With You - No.2

1960 - Please Don't Tease - No.1

1960 - Nine Times Out Of Ten - No.3

1960 - I Love You - No.1

1961 - Theme For A Dream - No.3

1961 - Gee Whiz It's You - No.4

1961 - A Girl Like You - No.3

1961 - When The Girl In Your Arms Is The Girl In Your Heart - No.3

1962 - The Young Ones - No.1

1962 - Do You Wanna Dance/I'm Looking Out The Window - No.2

1962 - It'll Be Me - No.2

1962 - The Next Time/Bachelor Boy - No.1

1963 - Summer Holiday - No.1

1963 - Lucky Lips - No.4

1963 - It's All In The Game - No.2

1963 - Don't Talk To Him - No.2

1964 - Constantly - No.4

1965 - The Minute You're Gone - No.1

1965 - Wind Me Up (Let Me Go) - No.2

1968 - Congratulations - No.1

1973 - Power To All Our Friends - No.4

1979 - We Don't Talk Anymore - No. 1

1980 - Carrie - No.4

1981 - Wired For Sound - No.4

1981 - Daddy's Home - No.2

1986 - Living Doll (with The Young Ones) - No.1

1986 - All I Ask Of You (With Sarah Brightman) - No.3

1987 - Some People - No.3

1988 - Mistletoe And Wine - No.1

1989 - The Best Of Me - No.2

1989 - I Just Don't Have The Heart - No.3

1990 - Saviour's Day - No.1

OK Friends, test yourself and see whether you are a genuine Cliff Richard fan.

You can also read about
Cliff's Chronology
from 1958 to 1996.


This Page was created on 17th October 1997 and hosted by

angeleong